Remember that time....when we watched Gymkata....about the dude with wicked skills in Gymnastics and Ninjitsu....that was Awesome!
The memory is a funny thing.
Have you ever remembered seeing a movie that you thought was really cool when you saw it a long time ago, and then upon seeing it again question your own sanity? Or worse.....did you talk up this movie to friends, saying things like, "You've got to see this movie. It's AWESOME!" And through your insistence, you were able to get them to sit down with you and watch said movie, only to realize about 10 minutes in that you've made a grave mistake.
I have.
Twice.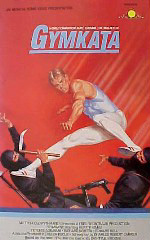 In both instances, the unfortunate saps who listened to me were my buddies Cory and Daryn. The offending movies were
Gymkata
and
Prayer of the Rollerboys
.
Seriously....what was I thinking?
Of course, every once in a while memory serves you correctly, such as in the case of
Playing By Heart
which I just located at MusicWorld a few days ago (after repeated searches of DVD racks in stores across Canada). I'm glad I have it to add to my collection. It's worth checking out.
Really. It's way better than Gymkata.